Those who wish to take an unusual trip from Venice, take the Burchiello, the historic boat recently restored, along the Riviera di Brenta. Along the route, which touches Mira, Dolo, Stra, 70 villas parade in front of the traveler, between large and small.
One of the first is Villa Foscari, also known as "Malcontenta", by a lady of the noble family, relegated here, par, for her costumes unworthy of the name of the family. Continuing, we meet: Villa Mocenigo, Villa Gradenigo, Villa Priuli, Villa Orlandini, Villa Varisco, Villa Olanda, Palazzo Foscarini (now home to a post office), which hosted Lord Byron from 1817 to l8l9, Villa Contarini dei Leoni (transformed in school after you had hosted Henry III of France in 1574), the Barozzi Villas, Rampazzo, Pasquali, Busetto, the Boldrin Palace, the Ciceri Villas, Giaretta, Nani Mocenigo, Zanon Bo from the beautiful colonnade, Sooranza Favaro – che D'Annunzio in his novel Il fuoco he names "La Barbariga", making a mistake, because "La Barbariga" is, instead, the Villa Lazara Pisani that comes immediately after, finally, Villa Pisani in Stra, which is the most grandiose construction.
Starting from the Serenissima with the vaporetto, however, you can go to Murano, apart from the famous glassworks, worthy of note is the ancient basilica of SS. Maria and Donato, founded in the VII century, but rebuilt at the beginning of 1100 following the example of the Romanesque churches of Ravenna.
The same vaporetto arrives in Burano, famous for the art of lace and enchanting for the silence and color of its houses.
Finally, we land in Torcello, the most mysterious, solitary and suggestive island of the lagoon. There are monuments that testify to the splendors of the past: from the seventh century Cathedral, with the mosaic of the Last Judgment, to the church of S. Fosca, from the Archives to the Council Palace and the inn where Hemingway wrote one of his latest novels.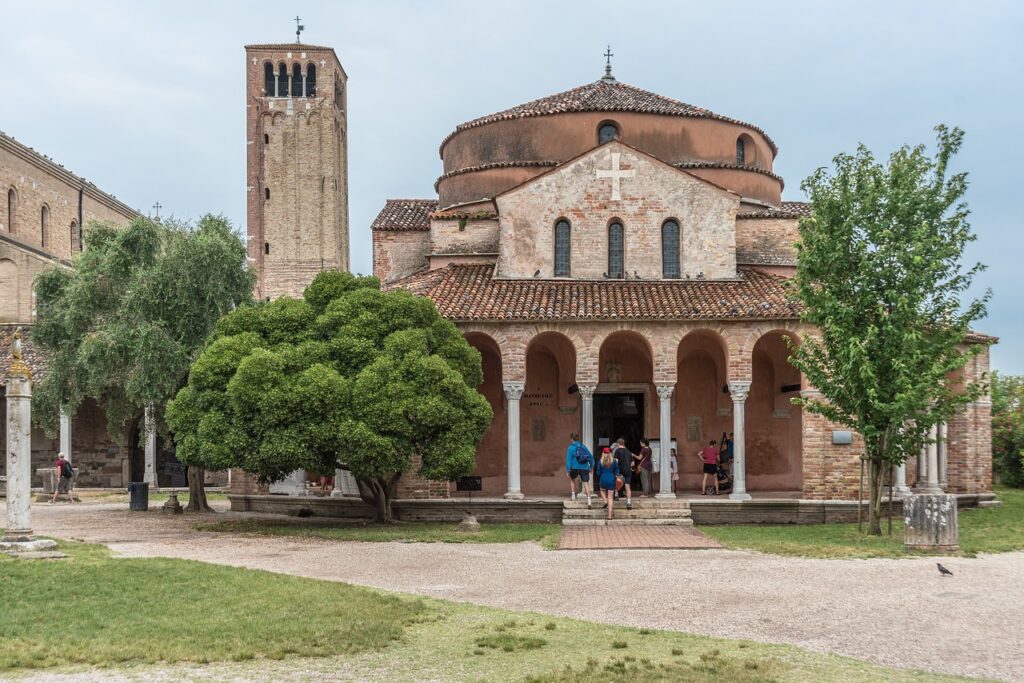 If Torcello is the extreme island north of the Venetian lagoon, Chioggia represents its southern end: it can be reached along the Romea road. In Chioggia the oldest part deserves to be seen, with the canals crowded by boats with bright colors.
Towards the mainland, the province of Venice is not lavish with landscapes or monuments. Portogruaro deserves, however, a visit for the fourteenth-century Palazzo Comunale and the Duomo, which has an inclined Romanesque tower for its bell tower.